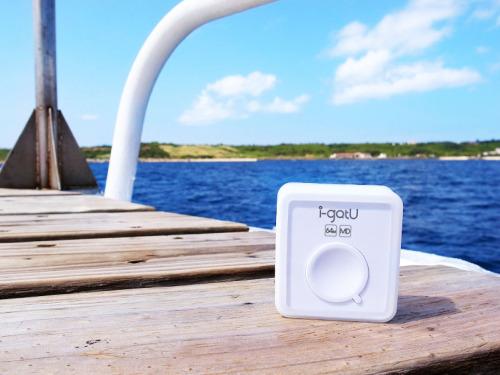 Taiwan's Mobile Action was kind enough to let me try the new i-gotU GT-600 USB GPS Travel Logger in order to compare it to the previously reviewed GT-120. The new model has a few new features that I found useful and a few others I didn't, though others might. But let us start with the specs.
The Basics
The GT-600 measures a bit larger in dimension and is slightly heavier than the GT-120. Still small enough to stick in your pocket, or attach to your clothing with the included velcro strap, at 46 x 41.5 x 14 millimeters, the GT-600 weighs 37 grams and packs in a SiRF Star III 65nm low power GPS chipset, 64 MB of flash memory for storing 262, 000 waypoints, and a built-in 750 mAh rechargeable lithium ion battery.
The GT-600 also features a motion detector which turn the GPS receiver on and off when you start and stop your activity. This is one of the new features I appreciate because the GT-600 still utilizes blue and red LEDs to indicate a GPS fix (simultaneous blinking signifies GPS tracking). I sometimes forget whether I have turned the device on or off with the flashing light confusion. Speaking of the LEDs, I'm happy to say they are much brighter than they were with the GT-120. In the previous logger I had trouble seeing the lights under the daytime, outdoor sky.
The GT-600 also works as a USB GPS receiver for laptops or netbooks and includes Where I Am software that plots your real-time location on Google Maps, Bing Maps or Yahoo Maps. This is a great feature if you're driving around in an unfamiliar location and don't have a PND or GPS-equipped cellphone with you. The USB 1.1 connection is also used for charging the GT-600 and for uploading GPS data to the included @trip software which plots your waypoints on a Google Map interface.
As with the GT-120, the @trip software included with the GT-600 enables you to create a web-based travel blog, plot your distance, speed and altitude on 3D maps, and enables the addition of time-synchronized, geotagged photos which can be uploaded to the Picasa or Flickr photo-sharing websites.
The Good
The GT-600 acquired a GPS fix within the claimed 35 seconds this time around, a huge improvement from my experience with the GT-120. As I already mentioned, I really like the motion -based auto on/off feature and the brighter LEDs.
The Bad
I preferred the smaller form factor of the GT-120 but the GT-600 isn't much bigger and makes up for it with much more power and functionality (this could also be listed under The Good
). Trade-offs, I guess. I'm also surprised that the @trip software hasn't changed much since my last review during the summer of 2009. The world of connected software is so fast moving I'd almost expect a completely new and improved user interface by now. I'd also expect Mobile Action to do a better job of promoting its online @trip social network which could use a little more user engagement by the looks of it.
The Bottom Line
The i-gotU GT-600 USB GPS travel logger, like the GT-120, qualifies as a perfectly reliable solution for recreational athletes and travelers. As a runner currently training for a marathon I've been happy using the GT-600 as an aid that enables me to track my routes and other location-based training data. Now Mobile Action just needs to make some prettier software and a wireless solution for uploading GPS data to your PC!
If you plan on purchasing a GT-600, please consider this blog by buying from Amazon
.
Update: In this review I overlooked some key changes made in the @trip software. My apologies for this. In fact, Mobile Action has added Sports Analyzer and Where Am I?, two new and usable features not available back in the summer of '09. Photo Locator is another new feature that enables users to add and geotag photos without manually adding them to the map. All in all, Mobile Action has made strides to improve the @trip software and should be recognized for that! You can find more details regarding the changes here.